| | |
| --- | --- |
| Non-canon: This page is in full or in large part about non-canon information or a non-canon source of information. | |
Origins and Distribution
Edit
The Arantian Crocodile is a type of Crocodile found in the rivers and waterways of south-western Allansia. It has been recorded from flooded underground corridors within the Tomb of Akharis in the wastes north of of the city of Rimon.[1]
Arantian Crocodiles are also likely to be found throughout Arantis, especially along the banks of the River Eltus, as well as the jungles and swamps between Arantis and the Snakelands.[2]
Additionally, although there are no direct reports, it is possible that Arantian Crocodiles dwell in the sewers of cities like Halak and Rimon, where they are preyed upon by larger creatures such as the Karkarus.[3]
Description
Edit
Arantian Crocodiles are large reptiles, around four metres long.[1] They have four legs with webbed feet, a vertically-flattened tail for propelling them through the water, and long, tooth-filled jaws for catching prey. Arantian Crocodiles are covered in armoured scales that range in colour from yellow through green and grey, to almost black.
Special Abilities
Edit
Similar to other Crocodiles, Arantian Crocodies are not so skilled when fighting on land (their skill being reduced by 2 points), but if they can lure or drag their prey into the water to fight, they will prove deadly opponents.[4]
This is represented by making an opponent fighting a Crocodile reduce their Attack Strength by 1 whilst standing waist-deep in water.[1] Alternatively, there are a range of skill modifiers for combat depending on whether the victim is knee-deep in water (-2), waist-deep (-4), up to their neck (-6), or swimming (-8).[5]
Further Notes
Edit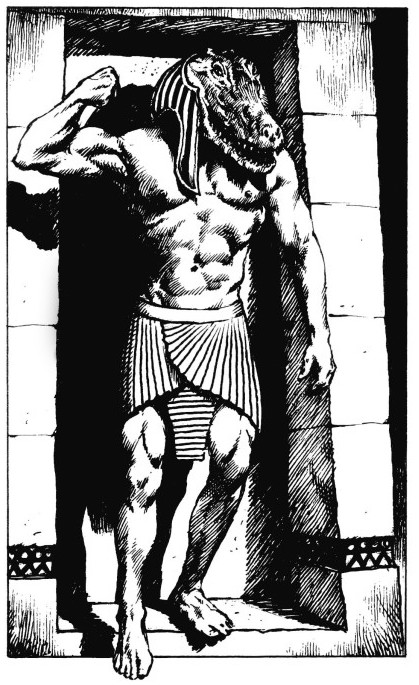 References
Edit
↑ 1.0 1.1 1.2 1.3 Curse of the Mummy - 48
↑ Demonstealer - p.85, 91
↑ 4.0 4.1 Out of the Pit - p.31/??
↑ Dungeoneer - p.166
↑ Curse of the Mummy - 14, 45, 255, 275
↑ Curse of the Mummy - 324
↑ The Riddling Reaver - p.216
↑ The Warlock of Firetop Mountain - 259, 350
↑ Out of the Pit - p.44/??
Ad blocker interference detected!
Wikia is a free-to-use site that makes money from advertising. We have a modified experience for viewers using ad blockers

Wikia is not accessible if you've made further modifications. Remove the custom ad blocker rule(s) and the page will load as expected.