Beyond the Pit is a expansion title for the Advanced Fighting Fantasy System (AFF) written by Andrew Wright as a follow-up to Out of the Pit. It is based on Steve Jackson and Ian Livingstone's Fighting Fantasy series. The book was illustrated by various artists and was published in 2014 by Arion Games.
Background
Edit
The monsters are arranged alphabetically.
Cover and Illustrations
Edit
Cover
The original cover of the book was designed and illustrated by Terry Oakes. It had originally been used as the cover of The Fighting Fantasy 10th Anniversary Yearbook.
Beyond the Pit through the years
2014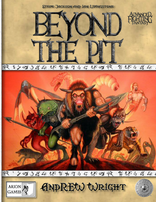 A4 Format
US$19.99
Illustrations
The interior illustrations were by various artists. Each monster description is followed by an illustration. And many of the most well known Fighting Fantasy Artists are represented here as the majority of drawings are from the gamebooks. However, there are some original illustrations as well.
A new map of Titan by Steve Luxton is included.[2]
Further Notes
Edit
Dedication
Edit
In memory of Brian Williams, inspiration Fighting Fantasy artist.
You helped bring the world of Titan alive.[3]
References
Edit
↑ Beyond the Pit - Back Cover
↑ Beyond the Pit - pp.4-5
↑ Beyond the Pit - p.2