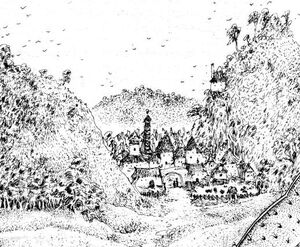 Birritanti, "cradled between three hills", is the largest village in the Shamutanti Hills in Kakhabad,[2] and is a friendly place "where all travellers spend at least one night".[3]
As a result of this, prices are high: a mug of ale in Glandragor's Tavern costs 2GP, and the village inn charges 4GP for a meal and 5GP for a bed for the night.[4] A stay in Birritanti is well worth it, however, as the Crystal Waterfall in the village is said to have healing powers.[5]
Once a year, the Festival of the Young is held in Birritanti, when "the children are allowed the freedom of the village".[6]
Further Notes
Edit
Like some other names in the Sorcery! series, Birritanti is named after a place in Nepal, in this case the village of Birethanti in the Annapurna region.
References
Edit