Deletion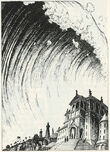 Deletion has been suggested for this page according to the
deletion policy
. In the normal day-to-day operations of Titannica, some pages are deleted for various reasons. This deletion suggestion and reasoning can be discussed on:
Please note that this article is about a mountain range whose name is apocryphal rather than canon-based.[1]
The Charavask Mountains are a chain of rough forbidding peaks that form in the Western lowlands of the Icefinger Mountains and end on the edges of River Kok in southern Chiang-Mai. The range marks the eastern boundaries of the Chiang-Mai nation and is laced with outposts, trails and mines that date back centuries.
Population
Edit
It has been written that they are home to a number of very small communities and these settlements mine the mountains for the wealth of valuable minerals and metals that are removed from the earth and transported south to Fang.
The mountains were once home to large numbers of Goblin tribes that dwelt in the wondrous natural caves, and were removed form the region in the Charavask wars between 1898OT and 1920OT.
Dragon's Eyrie
Edit
Located on the Southern tip of the mountains is the Dragon's Eyrie, the tallest mountain in the range that overlooks the capital of Chiang Mai itself.
References
Edit