Deathtrap Dungeon 3 was a fan written Fighting Fantasy adventures by Ken Beuden, Daniel Fiander, Jared Milne, Brett Schofield and Andrew Wright. It was first published online in 2001.[2]
Introduction
Edit
| | | |
| --- | --- | --- |
| " | Can you defeat Sukumvit's Deathtrap Dungeon and become the Ruler of Blood Island?[3] | " |
Background
Edit
The hero in this story participates in a run on the third incarnation of the notorious Deathtrap Dungeon; the winner will receive rulership of the now vacant Blood Island, the headquarters of Baron Sukumvit's late brother, Lord Carnuss. However, little do either the hero or Sukumvit know that one of the other participants is actually Carnuss' son, who is looking for revenge for his father's death...
The adventure in general follows the original rules set down in The Warlock of Firetop Mountain (see Game System).
Unique Rules
Edit
The player uses Healing Potions which restore 4 stamina at a time.
There will be points where the player will be instructed to consume Provisions with no change to their

stamina

score. If they have no Provisions to consume at this point they must lose 3

stamina

points. Similarly, there will be point where the player will need to take a drink. Should they have no drinks left in their water flask, then they must forfeit 3

stamina

points.
Equipment List
Edit
Backpack
5 Provisions
10 Healing Potions
Water Flask (3 drinks)
Choice of one of three Potions (see Game System for generic fantasy setting choices)
Cover and Illustrations
Edit
Cover
The later Hungarian translation of the adventure had a cover by Les Edwards. The art was originally used for a collection of Brian Lumley's writings.[4]
Illustrations
The colour map was by David Holt. The later Hungarian translation of the adventure had internal artwork by Istvan Lakatos.
Main Characters
Edit
YOU: Hero of Deathtrap Dungeon 3
Locations
Edit
Encounters
Edit
Further Notes
Edit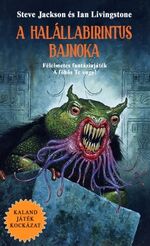 External Links
Edit
References
Edit
↑ Post #1104 at Rebuilding Titan - Retrieved 2014-01-27
↑ Deathtrap Dungeon 3 - p.3
↑ Fantastic Fiction - Retrieved 2014-12-13
Ad blocker interference detected!
Wikia is a free-to-use site that makes money from advertising. We have a modified experience for viewers using ad blockers

Wikia is not accessible if you've made further modifications. Remove the custom ad blocker rule(s) and the page will load as expected.