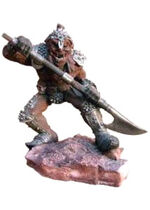 For other uses of Doragar, see Doragar
The Doragar ornament was one of a series of officially licensed Fighting Fantasy Ornaments made by Clarecraft Design.
It featured in the original 1992 production under the code "JL06" and in the 2004 re-released production under the code "LJ05". For an unknown reason the 25th Anniversary Edition of The Warlock of Firetop Mountain does not list this ornament in the "Fighting Fantasy Collection" section at the back of the book, along with the Hell Demon. Yet it does list Yaztromo, despite a model of the wizard having never been part of the series.
References
Edit
Ad blocker interference detected!
Wikia is a free-to-use site that makes money from advertising. We have a modified experience for viewers using ad blockers

Wikia is not accessible if you've made further modifications. Remove the custom ad blocker rule(s) and the page will load as expected.