A Dwarf (two forms of the plural, Dwarfs and Dwarves, exist in canon), is a member of one of the four great original sentient races of Titan.
Origins and Distribution
Edit
Said to have been created by Throff in the Godtime, the Dwarfs have great affinity with hills and mountains and all crafts associated with stonework.
Much information on this race can be found in the books Out of the Pit and Titan - The Fighting Fantasy World.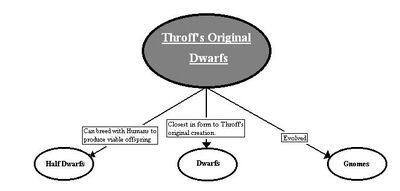 Dwarfs can be found all over Titan and Khul's mountains are no exception. Those Dwarfs who ventured to the south of Irritaria made their mansions in the Mountains of the Giants. Their various clans and members from these clans appear in many of the great stories of Khul. Their mansions are found in the Mountains of the Giants, Cloudhigh Mountains, and in the Copper Mountains. It is rumoured that some still live in the Northern Mountains of north east Khul, although surprisingly there are no records of Dwarf settlements in the Shios'ii.
Description
Edit
Special Abilities
Edit
Other Media
Edit
Further Notes
Edit
Further Information in Canon
Edit
More information can be found at:Source[1]
The Fighting Fantasy 10th Anniversary Yearbook (pg34, pg58, pg76, pg78, pg95, pg105, pg109, pg126, pg128*, pg129, pg162-163, pg186, pg194, pg204, pg209, pg213, pg224)
Out of the Pit (Large) (pg23, pg36, pg43#*, pg47, pg60-61, pg89-91, pg94, pg99, pg103, pg116, pg126, pg127)
Allansia (paraCover*, pg5, pg8*, pg21, pg28, pg54-57, pg59, pg61-62, pg65, pg67, pg69, pg71, pg76*, pg114*, pg115, pg129, pg137, pg141, pg188*, pg204*, pg217, pg266, pg267, pg279, pg280)
Blacksand! (pg19, pg34*, pg60, pg65, pg81, pg118, pg137, pg143, pg150, pg166, pg189, pg240*, pg260*, pg308*, pg318*, pg356*)
The Warrior's Way (para14, para139, para329, para423#*)
Dungeoneer (pg10*, pg38*, pg47, pg48*, pg49-50, pg52, pg59, pg60, pg62, pg114, pg132, pg139, pg173, pg178, pg195, pg206, pg251, pg253, pg255, pg267, pg284, pg315, pg328, pg370, pg401#-402*)
Fighting Fantasy - The Introductory Role-playing Game (paraCover*, pg26-32, pg72*, pg73-74#, pg150*, pg151-154#, pg239)
The Warlock of Firetop Mountain (para20#, para68, para91, para100, para102, para131, para227*, para317)
The Citadel of Chaos (para13*, para33, para60, para213#, para295, para339*, para380)
The Forest of Doom (pg1, pg21, pg23, pg24, para141, para176, para204, para261, para271, para340*, para347#, para363, para400)
City of Thieves (para57, para62*, para66, para134, para173, para206, para218, para221, para224*, para236, para247, para384)
Deathtrap Dungeon (para18, para26, para28, para40, para42, para55, para60*, para121, para145#, para152, para163, para179, para302, para347. 354, para363, para365, para379)
Island of the Lizard King (para3, para11, para74, para77, para101*, para114, para121, para161, para173, para201, para216, para223*, para265, para279, para360*, para361, para386, para393, para400)
Scorpion Swamp (para14*, para42, para253, para312, para324, para338, para383)
Caverns of the Snow Witch (para3, para13, para20, para28, para48, para55, para57, para61, para69, para75, para90, para96*, para110, para117, para135, para155, para171, para173, para176, para189, para196, p ara199, para203, para211, para213, para220, para227, para239, para248, para251, para262, para272, para278, para285, para289, para311, para313#, para315, para332, para339, para365*, para372, para376, para388, para399, para400)
Temple of Terror (pg21, pg22, para47*, para161, para171, para230)
Trial of Champions (pg21, para22, para94, para124, para142, para202, para261, para360)
Masks of Mayhem (para42*, para78)
Creature of Havoc (para1*, para72, para86, para93, para148, para160, para185, para248, para311, para364, para372, para399)
Beneath Nightmare Castle (para1, para3, para45, para74, para116#, para136, para143, para151, para205, para222, para225, para235*, para268, para272, para280, para311*, pa ra312, para334, para341, para369, para375, para396)
Crypt of the Sorcerer (para4, para12, para15, para17, para22, para24, para28, para30, para34, para51, para56, para59, para63, para69, para71, para72, para76, para78, para79#, para88, para92, para93, p ara99, para104, para117, para126#, para132, para134, para135, para144, para145, para152, para157, para158, para160, para176, para186, para198, para204, para210, para212, para220, para225, para229, para231, para240, para245, para247, para253, para266, para267, para269, para277, para286*, para288, para293, para294, para305, para307, para311, para315, para316, para320, para323, para325, para331, para344, para347, para353*, para370, para371, para378#, para381, para400)
Phantoms of Fear (para9, para120, para254, para341, para386)
Midnight Rogue (para6, para86, para322, para323, para369)
Chasms of Malice
(para5, para29, para41, para49, para73, para84*, para88, para98, para101, para105, para107, para123, para129, para163, para164, para184, para187, para221, para239, para245, para2 46, para247*, para261, para265, para267, para281, para285, para303, para328, para329, para350, para352, para371, para375, para378*)
Stealer of Souls
(pg18, para59, para98, para304)
Daggers of Darkness
(para6, para26, para37, para53, para112, para117, para129, para136, para230*, para239, para246, para249, para306, para390)
Armies of Death (pg12, pg13, pg18, pg22, para7, para14, para22, para33, para37, para60, para74, para91, para191, para196, para202, para217*, para229, para252*, para313, para316, para336, para338*, para361)
Portal of Evil
(para27, para34, para40, para52, para65, para82, para97, para135, para140, para149, para153, para165, para166, para181, para202, para203, para211, para260, para265, para275, para276, para278, para299, para323, para342*, para353, para362, para364, para389)
Vault of the Vampire
(para192)
Fangs of Fury
(para20, para26, para122, para131, para149, para154, para156*, para169, para179, para208*, para214, para215, para238, para259*, para283, para303, para394, para399)
Master of Chaos (para104, para181*, para188, para265, para311, para397)
Siege of Sardath (pg15, para4, para28, para35, para36, para39, para63, para68, para74, para97, para108, para128, para135, para158, para162, para172, para181, para188, para194, para202, para205*,para211, para220, para223, para224, para237, para244, para247, para257, para264, para266, para274, para284, para290, para293, para295, para300, para306, para307, para315, para322, para331, para341, para344, para354, para368, para372, para376, para385, para391, para400*)
Return to Firetop Mountain (para132, para227#, para238, para250, para347*)
Night Dragon (para5, para14, para19, para41, para44, para49, para51, para60, para90, para115, para127, para152, para157, para159, para188, para192, para206, para220, para270, para296, para324, para337, para369, para382, para385)
Spellbreaker (para246, para254*, para266, para312)
Knights of Doom (para19, para24, para40*, para71, para85, para115, para213, para219, para295, para310, para356, para375, para398)
Magehunter (para210*, para394*)
Revenge of the Vampire (para42, para206*, para260, para329)
Template:Eyeofthedragon(para1, para7, para11, para16, para19, para22, para27, para31, para33, para35, para36, para38, para44, para46, para48, para49, para50, para52, para56, para60, para63, para66, para68, para70, para75, para84, para87, para89, para96, para97, para101, para104, para108, para113, para118, para123, para125, para126, para132, para133, para135, para137, para145, para148, para150, para152, para156, para160, para169, para171, para172, para178, para183, para185, para189, para197, para200, para202, para203, para205, para209, para212, para219, para224, para228, para232, para233, para237, para238, para240, para242, para244, para247, para249, para253, para255, para259, para261, para263, para265, para266, para269, para273, para276, para277*, para279, para282, para289, para291, para294, para298, para300, para303, para310, para314, para316, para320, para321, para324, para328, para332, para333, para335, para337, para341, para344, para346, para347, para349, para351, para353, para354, para358, para360#, para361, para364, para366, para368, para370, para371, para373, para375, para376, para378, para380, para382, para386, para390, para400, para401, para405, para407)
Template:Bloodbones(para156, para288)
Template:Howlofthewerewolf(para2, para26, para69*, para122, para266, para281, para418, para442, para498, para509)
Template:Stormslayer(pg11, para4, para16, para18, para25, para27, para30, para57, para68, para75, para77#, para92, para98, para110, para124, para140, para190, para240, para244, para247, para250, para260, para281, para314, para345, para368, para383, para399)
The Trolltooth Wars
(pg66, pg144, pg176-178, pg190, pg209)
Shadowmaster (pg25-26, pg50-51, pg53-54, pg56, pg62, pg66, pg79, pg81-82, pg97, pg128, pg131, pg152-153, pg170)
The Riddling Reaver (pg61)
Kharé - Cityport of Traps (para71, para98*, para153, para233, para244, para269*, para293, para321#)
Titan - The Fighting Fantasy World'(Large) (pg9, pg12, pg15, pg16*, pg26, pg29, pg29, pg30, pg32, pg33, pg40-41, pg42, pg43, pg45, pg46, pg48*, pg49*, pg50*, pg51*, pg52, pg53, pg55, pg58, pg60, pg63, pg64, pg75, pg76, pg76, pg79, pg79, pg81, pg82, pg83, pg83, pg84, pg88, pg90*, pg94, pg96, pg97*, pg103, pg116, pg120, pg121, pg123, pg125)
Titan - The Fighting Fantasy World'(Small) (pg10, pg16, pg19-20, pg20-21*, pg44*, pg51, pg52, pg55, pg59, pg62, pg80-81, pg83-84, pg86, pg91, pg97, pg99-107 (pg100*, pg103*, pg104*), pg108, pg110, pg114, pg119-121, pg125, pg134, pg136-139, pg165, pg167, pg168, pg172, pg175, pg179, pg181, pg184, para pg185-186, pg187-189, pg198, pg204*, pg213, pg217, pg221-222*, pg223, pg239, pg271, pg282, pg285, pg290, pg296)
The Tasks of Tantalon (Hardback)'(paraCover*, pg16*, pg17*)
Warlock Issue 1 (pg4*, pg5*, pg7, pg26 (68), pg30 (102), pg48 (260))
Warlock Issue 2 (pg4#*, pg5, pg14 (287#), pg15 (319), pg16 (323, para339), pg20 (381*), pg26*, pg28 (2), pg35 (53#), pg36 (76*), pg48 (186))
Warlock Issue 3 (pg10, pg12, pg24#*, pg29)
Warlock Issue 4 (pg32 (59), pg41 (128), pg50*)
Warlock Issue 5 (pg14, pg17*, pg23 (18), pg32 (66#*))
Warlock Issue 7 (paraCover*, pg29 (4, para11#), pg31 (38), pg33 (56#, para66#), pg35 (86*), pg44 (175))

# - denotes a reference with statistics
* - denotes a picture
To be used within full article: Images can be found where asterisks are highlighted above
References
Edit
↑ Complete list of references catalogued by FF Titan Bestiary
Ad blocker interference detected!
Wikia is a free-to-use site that makes money from advertising. We have a modified experience for viewers using ad blockers

Wikia is not accessible if you've made further modifications. Remove the custom ad blocker rule(s) and the page will load as expected.