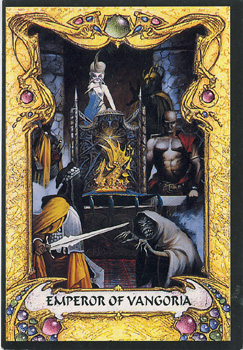 Emperor of Vangoria was US BattleCard 140 and UK BattleCard 150.
The card used artwork by Peter Andrew Jones.
Description
Edit
US Edition
Edit
This card was available by translating secret messages on the back of all 8 Treasure Cards, then sending them in to the decrypted address. Those cards were then voided and returned with the card #140.[1]
Accompanying Wording
Edit
Each Battle Card #150 in the UK series was accompanied by the following letter[2]:
"
"Noble Vangorian,

Congratulations on successfully completing the eleventh - and final - Quest.

Enclosed with this note you will find your ultimate reward - a Deed of Entitlement to the Throne of Vangoria. This special 'hidden' card is only available to Vangorians who have completed their collection of all 8 Wondrous Treasures. It is never to be found in packs of BattleCards.

Note also that your Wondrous Treasure cards have been returned, but marked with a special Seal. These cards cannot be used again to claim the Emperor card.

All hail the new Emperor of Vangoria!

May Your Stamina Never Fail!

STEVE JACKSON" <--written in Vangorian

"
TO BE COMPLETED
Category Stats
Edit
BattleCard Type
Edit
This card was not part of a sub-series (it is one of the Ungrouped BattleCards).
Further Notes
Edit
TO BE COMPLETED
References
Edit
↑ Source Emperor of Vangoria Page
Ad blocker interference detected!
Wikia is a free-to-use site that makes money from advertising. We have a modified experience for viewers using ad blockers

Wikia is not accessible if you've made further modifications. Remove the custom ad blocker rule(s) and the page will load as expected.