Escape from the Sorcerer was a fan written Fighting Fantasy adventure by Sunil Prasannan. It was first published online in issue 6 of Fighting Fantazine in 2011.
Background
Edit
| | | |
| --- | --- | --- |
| " | The kingdom of Alkemis has come under repeated attack from neighbouring Agra. Unable to hold back the hordes of Lizard Men and chaotic Asuras led by the evil sorcerer Grudar Kreshnel, YOU and a few dozen fellow survivors were captured. One by one your fellow countrymen have been brutally executed, until only YOU remain. Will YOU be able to escape from the Sorcerer?[1] | " |
The adventure in general follows the original rules set down in The Warlock of Firetop Mountain (see Game System).
Unique Rules
Edit
The reader is unarmed at the start of the book and suffers a skill penalty of 2 points until they find a weapon.
Provisions restore 2 stamina per meal.
Equipment List
Edit
The player begins the adventure with no equipment.
Cover and Illustrations
Edit
Cover
The cover was designed and illustrated by Michael Wolmarans.
Illustrations
The interior illustrations were by Michael Wolmarans. There were 10 full page illustrations and 6 minor repeated illustrations scattered throughout the text. The paragraphs with a full page illustration were: 3, 29, 78, 86, 103, 110, 133, 153, 169, and 193.
Main Characters
Edit
YOU: Hero of Escape from the Sorcerer
Locations
Edit
Encounters
Edit
Further Notes
Edit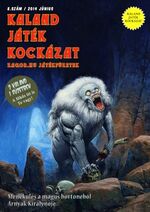 Possible error: Arriving from sections (61) or (96) we encounter a river running south-north. We cross it and go eastwards to (183) and (152), leaving it behind. Then a new tunnel starts northwards (89) where the river magically reappears. It is possible the new tunnel and the river begin to run parallel as they are both north-south oriented.
Typos: (140) mentions a Rune of Life and a Rune of Chaos, while at (99) there is a Rune of Good and a Rune of Chaos.
Typos: (145) mentions a female Hobbit character: "her escorts were taking him back to the cells".
External Links
Edit
References
Edit
↑ Fighting Fantazine Issue 6 - p.3
Ad blocker interference detected!
Wikia is a free-to-use site that makes money from advertising. We have a modified experience for viewers using ad blockers

Wikia is not accessible if you've made further modifications. Remove the custom ad blocker rule(s) and the page will load as expected.