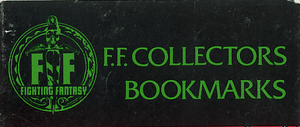 The F.F. Collectors Bookmarks were a series of five bookmarks released in late 1986 as inserts to certain Fighting Fantasy related publications. Every new Fighting Fantasy book published in October and November 1986 contained a FF Collectors Bookmark. The books were as follows:
It is interesting to note that only two of the above were pure gamebooks and one of the books above, Helmquest, was not in fact a Fighting Fantasy publication but was a Fantasy Questbook.
Illustrations
Edit
Intertextual References
Edit
Main Characters
Edit
Locations
Edit
Encounters
Edit
Descriptions of the Bookmarks
Edit
1 - from Masks of MayhemEdit
2 - from Titan - The Fighting Fantasy WorldEdit
3 - from The Riddling ReaverEdit
4 - from Creature of HavocEdit
5 - from HelmquestEdit
Fighting Fantasy Competition of the Century
Edit
Main article: F.F. Bookmarks Competition
The bookmarks in fact detailed two competitions to test "all your skill and ingenuity."
The Adventurer's Competition
Edit
Each bookmark contained a new chapter in the adventures of Jerik Kalazar, a famed adventurer and treasure seeker. In each story there was a puzzle which had a one syllable word answer. If you could solve the puzzle you could send in your answer by postcard and potentially win:
A complete signed set of FF books
£10 of Puffin Books
There were also Runners up prizes consisting of 100 Fighting Fantasy Posters.
The closing date of this competition was 31st March 1987.
Part 2 - "The Grand Quest"
Edit
This was what was referred to as the Fighting Fantasy Competition of the Century. If you collected all 5 bookmarks and solved every puzzle you would have had 5 words altogether. Taking the letters of all of them, you had to jumble them together in order to find the location of Varag Hawkflight's treasure. This would have entitled you to enter the "Fighting Fantasy Competition of the Century". By sending your answer, together with the cut-off section on the corner of all 5 bookmarks, you could win an incredible prize consisting of:
There were also runners-up prizes consisting of 200 Fighting Fantasy posters.
The entry to this part of the Competition was only valid with the cut-off sections from all 5 bookmarks and the closing date was also 31 March 1987. The entries had to be sent to "F.F. Bookmarks Competition", Puffin Books, 27 Wrights Lane, London W8 5TZ.
References
Edit
Ad blocker interference detected!
Wikia is a free-to-use site that makes money from advertising. We have a modified experience for viewers using ad blockers

Wikia is not accessible if you've made further modifications. Remove the custom ad blocker rule(s) and the page will load as expected.