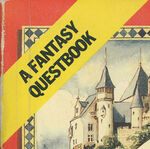 Fantasy Questbooks were a series of books published by Puffin Books. There were five in total, one of which forms part of Fighting Fantasy canon, whilst the others do not. A sixth book, Casket of Souls, is often mentioned along with the Fantasy Questbook series. However, Casket of Souls, although a hardback PuzzleQuest Book, like The Tasks of Tantalon, was never printed in softback by Puffin Books. The softback version was instead published by Penguin Books, and was not part of the Fantasy Questbook series.
The Series
Edit
This was made up of the following five books:
Associated Books
Edit
Casket of Souls was previously published by Oxford University Press in hardback in 1987 as a PuzzleQuest Book and was also part of Fighting Fantasy canon. This book was published by Penguin Books rather than Puffin Books.
Fighting Fantasy LinksEdit
For Fighting Fantasy The Tasks of Tantalon is set in the same world as Sorcery!. Although the other four Fantasy Questbooks were unrelated to Fighting Fantasy, one of them, Helmquest, did contain one of the five Fighting Fantasy Bookmarks.
The associated book Casket of Souls is set in the world of Amarillia and is canon as well.
References
Edit
Ad blocker interference detected!
Wikia is a free-to-use site that makes money from advertising. We have a modified experience for viewers using ad blockers

Wikia is not accessible if you've made further modifications. Remove the custom ad blocker rule(s) and the page will load as expected.