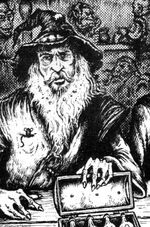 Geronicus is a mage of the wizard Astragal, who resides in Sharrabbas.[2]
He is possessed of the ability to summon Eagles, be they Black, Gold, White or any other and is a master of the ways of birds. He is also highly skilled in the art of fighting Necromancers, and has the ability to teach such craft to others. He possesses a set of the phials that point the way and open the hidden gates for the Select to the fortress. Each Gate is represented by a sacred symbol of the Kazanis, for example the Dagger, Half-moon, Cross and Holy Triangle are four such symbols. The phials that Geronicus has contain magical potions which when taken next to the walls of the Fortress will draw the consumer of the potion through the wall of the Fortress via the magical gate.
References
Edit
↑ Daggers of Darkness - 298
↑ Daggers of Darkness - 298
Ad blocker interference detected!
Wikia is a free-to-use site that makes money from advertising. We have a modified experience for viewers using ad blockers

Wikia is not accessible if you've made further modifications. Remove the custom ad blocker rule(s) and the page will load as expected.