Heroes Companion is a expansion title for the Advanced Fighting Fantasy System (AFF) written by Graham Bottley. It is based on Steve Jackson and Ian Livingstone's Fighting Fantasy series. The book was illustrated by Russ Nicholson and was published in 2013 (ISBN 978-0-85744-157-7).
Background
Edit
"
Take your Advanced Fighting Fantasy adventures to a new level with the Heroes Companion. Packed with new rules and new concepts including:

6 New Magical Styles
Rules for Hirelings
Organisations, Holdings and Dominions
Mass Battle rules
Wilderness adventures
Random Wilderness map generator

Requires the Advanced Fighting Fantasy core rulebook[1]

"
Cover and Illustrations
Edit
Cover
The original cover of the book was designed and illustrated by John Sibbick. It had originally been used as the cover of Allansia.
Heroes Companion through the years
2013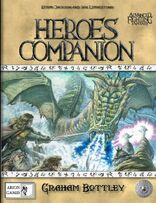 A4 Format
US$19.99
Illustrations
The interior illustrations were by Russ Nicholson.
Further Notes
Edit
Dedication
Edit
For Florence, Benjamin and Jo
References
Edit
↑ Template:HC - Back Cover