Ad blocker interference detected!
Wikia is a free-to-use site that makes money from advertising. We have a modified experience for viewers using ad blockers

Wikia is not accessible if you've made further modifications. Remove the custom ad blocker rule(s) and the page will load as expected.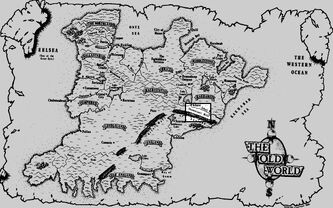 For other uses of The Vermin Pit, see The Vermin Pit
Kakhabad is a land of the north-eastern Old World riven by a history of violence and chaos whose northern reaches are all but a mystery.
Introduction
Edit
Interestingly, both Sword of the Samurai and the guide book Titan - The Fighting Fantasy World, refer to the Old World by the name "Kakhabad" (although in the case of Titan this is on the back cover only).
The "Vermin Pit at Earth End" is another name for Kakhabad in the Old World, referring to its geographical location, next to the Earth End Coastline, and the lawless nature of that land.[1]
Geography
Edit
Western Kakhabad (Mauristatia)
Eastern Kakhabad (Avanti)
Notable Residents
Edit
Population
Edit
Human:
Non-Human:
Non-humanoid:
The Great Wall of Analand
Edit
The Crown of Kings
Edit
Other Events
Edit
Religion and Superstition
Edit
Other Culture
Edit
References
Edit