Luke Sharp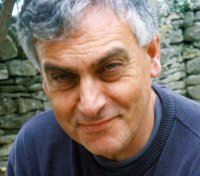 Luke Sharp is an author who has written four Fighting Fantasy gamebooks. "Luke Sharp" is a nom de plume for Alkis Alkiviades.
Biography
Edit
Early Life
Edit
Alkis Alkiviades completed a BA degree in "History of Near and Middle East" between 1972 and 1975 in the School of Oriental and African Studies (SOAS), University of London.[2] His background in Near and Middle Eastern history is apparent in his three Fighting Fantasy books set in Titan - some of the names in these books are drawn from the Oghuz Turkic epic, the Book of Dede Korkut, for example.
"Luke Sharp" as a Pseudonym
Edit
Luke Sharp is a pseudonym. We know this from a number of sources:[3]
It is interesting to note that the use of "Luke Sharp" as a pseudonym is not confined to Alkis Alkiviades. Robert Barr (16 Sep 1850-22 Oct 1912), the Scottish born crime author who founded The Idler magazine (with Jerome K. Jerome), also on occasion went by the pseudonym Luke Sharp.
Bibliography
Edit
Writer
Fighting Fantasy GamebooksEdit
Outside of Fighting FantasyEdit
Writer
Captain Dotto GamebooksEdit
Dotto and the Pharaoh's Mask (Blitz Publishing, 1997)
Dotto and the Minotaur's Maze (Blitz Publishing, 1998)
External Links
Edit
References
Edit
Ad blocker interference detected!
Wikia is a free-to-use site that makes money from advertising. We have a modified experience for viewers using ad blockers

Wikia is not accessible if you've made further modifications. Remove the custom ad blocker rule(s) and the page will load as expected.