Lupravia is one of the principalities of the Old World land of Mauristatia, known for its many small monasteries and abbeys, including the Abbey of the Black Monks and a large shrine to Saint Crucius just north of Strigoiva; and for an abnormally abundant wolf population.
Introduction
Edit
Until recently it was the seat of the House of Wulfen, the descendants of Dragomir Wulfen. Lupravia had once been under the control of a minor Vampire dynasty, which was ousted and presumably destroyed by Dragomir and his tribe of barbarian berserkers.
Geography
Edit
Map of Lupravia
Edit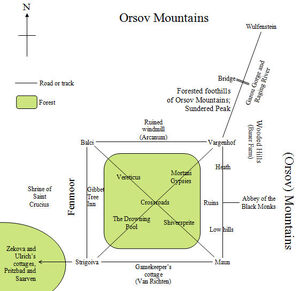 Places in Lupravia include:
The Location of Lupravia within Mauristatia
Edit
Population
Edit
References
Edit
↑ Howl of the Werewolf - 116, 200, 290
Ad blocker interference detected!
Wikia is a free-to-use site that makes money from advertising. We have a modified experience for viewers using ad blockers

Wikia is not accessible if you've made further modifications. Remove the custom ad blocker rule(s) and the page will load as expected.