The Master of Wolves is one of the five Masters of Scorpion Swamp.[1]
A Neutral wizard, although reasonably unapproachable and unfriendly to unknown parties. He is a big burly man known to be escorted by two wolves who sometimes visits the taverns in Fenmarge. His power derives from the Silver Amulet he wears.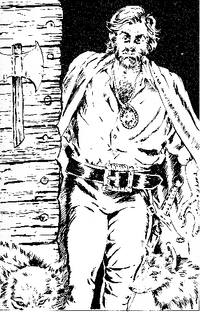 References
Edit
↑ Scorpion Swamp - 398
Ad blocker interference detected!
Wikia is a free-to-use site that makes money from advertising. We have a modified experience for viewers using ad blockers

Wikia is not accessible if you've made further modifications. Remove the custom ad blocker rule(s) and the page will load as expected.