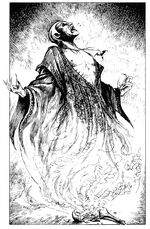 In the course of a hero's adventures in Blackhaven he is instructed, by Professor Van Heldenghast, to collect six "unique wards of Notura" to give you some protection against Karam Gruul's dark powers.[2] One of these wards is to be found in Kiennar's Curiosity Shop – a glass phial of the dried blood of Baron Milescu, Vampire Lord of Vannan.[3]
But carrying such a phial is a dangerous job and, if you are unlucky, the glass phial containing Baron Milescu's dried blood may get broken during a fight. Once broken, the "blood of you and your opponent has mixed with the Baron's powdery remains, imbuing them with life! Mist folds upon mist as the vapours swiftly merge and solidify into the form of Baron Milescu, Vampire Lord of Vannan!"[4]
References
Edit
Ad blocker interference detected!
Wikia is a free-to-use site that makes money from advertising. We have a modified experience for viewers using ad blockers

Wikia is not accessible if you've made further modifications. Remove the custom ad blocker rule(s) and the page will load as expected.