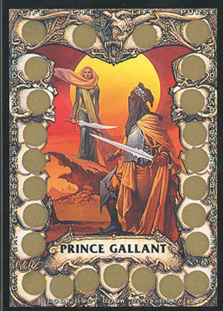 Prince Gallant was US BattleCard 110 and UK BattleCard 140.
The card used artwork by Gino D'Achille.
Description
Edit
Prince Gallant, a champion of justice, heads Quaine's resistance against Lord Vengeance. In the Age of Vangor, his father, a friend of the Emperor, was King of Quaine, ruling from his castle at Ballantyre. He was deposed by Vengeance, who had been invited to the castle as a friend of the Emperor's youngest son, who had himself desired Quaine. Gallant and his sister, Princess Francine, were forced to flee after their father was executed. Gallant swore to retake his family home, renamed Blackwall Castle by Vengeance. To avoid the Grim Lord's spies, he travels as a nomad, accompanied by Elissa, the Veiled Sorceress who as a former acquaintance of Vengeance, understands his ways.
Category Stats
Edit
BattleCard Type
Edit
This card is one of Quaine series. This card was also a Fighter Card.
Further Notes
Edit
TO BE COMPLETED
References
Edit
Ad blocker interference detected!
Wikia is a free-to-use site that makes money from advertising. We have a modified experience for viewers using ad blockers

Wikia is not accessible if you've made further modifications. Remove the custom ad blocker rule(s) and the page will load as expected.