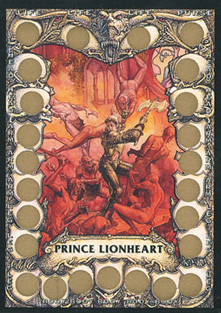 Prince Lionheart was US BattleCard 20 and UK BattleCard 20. It was one of only two cards that had the same numbr in both sets (the other being Vangoria (BattleCard) (card number 1).
The card used artwork by Iain McCaig that was originally used in Casket of Souls.
Description
Edit
TO BE COMPLETED
Category Stats
Edit
BattleCard Type
Edit
This card is one of The Darklands series. This card was also a Fighter Card.
Further Notes
Edit
TO BE COMPLETED
References
Edit