Resurrection of the Dead was a fan written Fighting Fantasy adventure by Alexander Ballingall. It was first published online in issue 1 of Fighting Fantazine in 2009.
Background
Edit
| | | |
| --- | --- | --- |
| " | YOUR home town of Bandur Green is being plagued by something out on the nearby heath which has already claimed the mind of one of YOUR friends. With no help coming, YOU take it upon yourself to seek out the truth. Can YOU survive the horrors hidden by the night?[1] | " |
The adventure in general follows the original rules set down in The Warlock of Firetop Mountain (see Game System).
Unique Rules
Edit
The reader is unarmed at the start of the book and suffers a skill penalty of 3 points until they find a weapon.
Provisions restore 4 stamina per meal.
Equipment List
Edit
Cover and Illustrations
Edit
Cover
The cover was designed and illustrated by Andrew Wright.
Illustrations
The interior illustrations were by Alexander Ballingall. There were 10 full page illustrations and 6 minor repeated illustrations scattered throughout the text. The paragraphs with a full page illustration were: 10, 18, 31, 84, 88, 117, 135, 156, 158, and 186.
The colour map on the back cover was by Alexander Ballingall.
Main Characters
Edit
YOU: Hero of Resurrection of the Dead
Locations
Edit
Encounters
Edit
Further Notes
Edit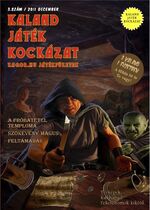 At (9) it should link to (79) instead of (75).
(11) mentions the slain goats when you could have arrived at (11) from (185).
(167) should link to (79) instead of (75).
(187) should link to (79) instead of (75).
External Links
Edit
References
Edit
↑ Fighting Fantazine Issue 1 - p.3
Ad blocker interference detected!
Wikia is a free-to-use site that makes money from advertising. We have a modified experience for viewers using ad blockers

Wikia is not accessible if you've made further modifications. Remove the custom ad blocker rule(s) and the page will load as expected.