Return to the Icefinger Mountains was a fan written Fighting Fantasy adventure by Ed Jolley. It was first published online in issue 9 of Fighting Fantazine in 2012.
Background
Edit
| | | |
| --- | --- | --- |
| " | Thirty years ago the Snow Witch was preparing to unleash an ice age upon Titan when her plans were thwarted by a wandering adventurer. YOU were one of the slaves freed in the wake of her defeat, and have lived a quiet life since then. But when the horrors of your past start to catch up with you again, you must go back to the caves form which you escaped. Can the Snow Witch really be returning? And if so, do have what it takes to stop her?[1] | " |
The adventure in general follows the original rules set down in The Warlock of Firetop Mountain (see Game System).
Cover and Illustrations
Edit
Cover
The cover was designed and illustrated by Brett Schofield.
Illustrations
The interior illustrations were by Brett Shofield. There were 10 full page illustrations and 6 minor repeated illustrations scattered throughout the text. The paragraphs with a full page illustration were: TBC
Main Characters
Edit
YOU: Hero of Return to the Icefinger Mountains
Locations
Edit
Encounters
Edit
Further Notes
Edit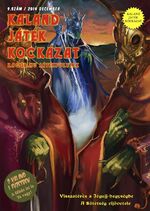 External Links
Edit
References
Edit
↑ Fighting Fantazine Issue 9 - p.3
Ad blocker interference detected!
Wikia is a free-to-use site that makes money from advertising. We have a modified experience for viewers using ad blockers

Wikia is not accessible if you've made further modifications. Remove the custom ad blocker rule(s) and the page will load as expected.