Ad blocker interference detected!
Wikia is a free-to-use site that makes money from advertising. We have a modified experience for viewers using ad blockers

Wikia is not accessible if you've made further modifications. Remove the custom ad blocker rule(s) and the page will load as expected.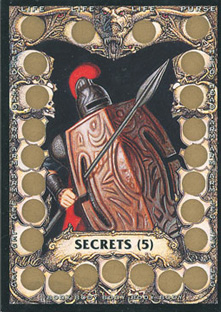 Secrets of Vangoria (5) was US BattleCard 137. There was no UK card with this name. In the UK version, the information on the "Secrets of Vangoria" cards was actually on two cards dropped for the US set (Battle Secrets and Quest Clues). However, the US, "Secrets of Vangoria" cards did use the artwork by Terry Oakes used on the Shield Cards in the UK set. For this card, it was the artwork from Battleshield.
The card used artwork by Terry Oakes as used on the Battleshield from the UK set.
Description
Edit
TO BE COMPLETED
Category Stats
Edit
BattleCard Type
Edit
This card is one of Constantia series. This card was also a Fighter Card.
Further Notes
Edit
TO BE COMPLETED
References
Edit
UK BattleCards
Preceded by
Secrets of Vangoria (5) (BattleCard) not in UK set
Secrets of Vangoria (5) (BattleCard) not in UK set
Succeeded by
Secrets of Vangoria (5) (BattleCard) not in UK set
US BattleCards
Preceded by
Secrets of Vangoria (4)
Secrets of Vangoria (5) (BattleCard)
Succeeded by
Checklist 110-139