Shrine of the Salamander was a fan written Fighting Fantasy adventure by Andrew Wright. It was first published online in issue 2 of Fighting Fantazine in 2010.
Background
Edit
| | | |
| --- | --- | --- |
| " | Hideous Horntoads from the Croaking Caves have stolen the sacred idol of Verlang! YOU are a forge-priest from the Copperstone Mines. Armed with just your war hammer and a head full of spells, can YOU enter the Croaking Caves and retrieve the idol from the Shrine of the Salamander?[1] | " |
The adventure in general follows the original rules set down in The Warlock of Firetop Mountain (see Game System).
Additionally, the player has a series of magic spells that can be used, each costing between 1 and 4 stamina points (using the memory-only system set down in Sorcery!):
Equipment List
Edit
a Cloth Skullcap
a Galehorn
a Giant Tooth
Cover and Illustrations
Edit
Cover
The cover was designed and illustrated by Natalie Roberts.
Illustrations
The interior illustrations were by Brett Schofield. There were 10 full page illustrations and 6 minor repeated illustrations scattered throughout the text. The paragraphs with a full page illustration were: 1, 24, 41, 66, 85, 103, 120, 141, 162, and 188.
The colour map on the back cover was by Andrew Wright.
Main Characters
Edit
YOU: Hero of Shrine of the Salamander
Locations
Edit
Encounters
Edit
Further Notes
Edit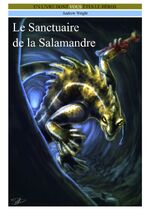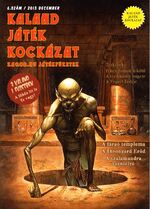 External Links
Edit
References
Edit
↑ Fighting Fantazine Issue 2 - p.3