The Sorcery! Series Boxed Set was one of the Wizard Books boxsets in their original boxset release, containing book cover illustrations as the cover artwork of the boxset's slipcase.
Each of the books was the regular cover as opposed to the "Special Limited Edition" covers. The top advertised the website Fightingfantasygamebooks.com. The bottom showed the barcode, price and credited the box set design to Nicholas Halliday but the box side illustrations to Mel Grant.
TBC
From the base it can be seen that the RRP was £19.99.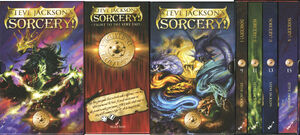 References
Edit
Ad blocker interference detected!
Wikia is a free-to-use site that makes money from advertising. We have a modified experience for viewers using ad blockers

Wikia is not accessible if you've made further modifications. Remove the custom ad blocker rule(s) and the page will load as expected.