The Curse of Meraki was a fan written Advanced Fighting Fantasy adventure by Stuart Lloyd. It was first published online in issue 7 of Fighting Fantazine in 2011.
Background
Edit
The adventure in general follows the original rules set down in Dungeoneer (see Advanced Fighting Fantasy System). In addition a series of modifications to accommodate the rule variations of the second edition were also featured.
Illustrations
Edit
Illustrations
The interior illustrations were by Michael Wolmarans. There were 4 illustrations.
Main Characters
Edit
Locations
Edit
Encounters
Edit
Further Notes
Edit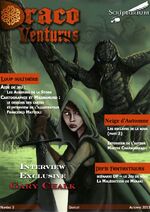 External Links
Edit
References
Edit