For other uses of Minotaur, see Minotaur (disambiguation)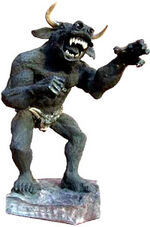 The Minotaur was one of a series of officially licensed Fighting Fantasy Ornaments made by Clarecraft Design.
It featured in the original 1992 production under the code "JL08" and in the 2004 re-released production under the code "LJ07".
By the time this model was made Minotaurs had appeared in a number of Fighting Fantasy books, including The Warlock of Firetop Mountain, Deathtrap Dungeon and Caverns of the Snow Witch.
References
Edit
Ad blocker interference detected!
Wikia is a free-to-use site that makes money from advertising. We have a modified experience for viewers using ad blockers

Wikia is not accessible if you've made further modifications. Remove the custom ad blocker rule(s) and the page will load as expected.