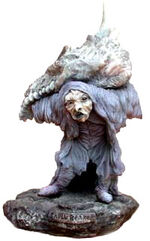 The Skull Bearer was one of a series of officially licensed Fighting Fantasy Ornaments made by Clarecraft Design.
It featured in the original 1992 production under the code "JL11" and in the 2004 re-released production under the code "LJ10". The 25th Anniversary Edition of The Warlock of Firetop Mountain lists this ornament as "Bone Collector", although it did not carry this name in production.
References
Edit
Ad blocker interference detected!
Wikia is a free-to-use site that makes money from advertising. We have a modified experience for viewers using ad blockers

Wikia is not accessible if you've made further modifications. Remove the custom ad blocker rule(s) and the page will load as expected.