For other uses of The Warlock of Firetop Mountain, see The Warlock of Firetop Mountain
The Warlock of Firetop Mountain - An adventure for Advanced Fighting Fantasy is the conversion of The Warlock of Firetop Mountain (by Ian Livingstone and Steve Jackson) for Advanced Fighting Fantasy. The adaptation was written by Brett Schofield and published by Arion Games in 2014.
Background
Edit
"
Deep below Firetop Mountain is a dungeon. A very special dungeon.

For here resides the Warlock, an evil magician of immense power, protected by guards, traps and monsters. A group of special Heroes are needed to defeat the Warlock and free the surrounding countryside of his malign influence.

Based upon the classic gamebook and featuring original and new illustrations, this adventure will challenge and entertain your players![1]
"
Cover and Illustrations
Edit
Cover
The original cover of the book was designed and illustrated by Martin McKenna. It had originally been used as the cover of the Wizard Books "Series 2" edition of The Warlock of Firetop Mountain.
The Warlock of Firetop Mountain through the years
2014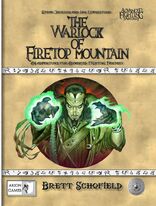 A4 Format
US$19.99
Illustrations
The interior illustrations were by Russ Nicholson and Brett Schofield.
All maps are by Brett Schofield.
Further Notes
Edit
The book incorporates information and detail from all versions of the story, taking material not only the gamebook, but also from the various video game adaptations and others that can be found listed on the disambiguation page: The Warlock of Firetop Mountain.
Dedication
Edit
Many thanks to Ian Livingstone and Steve Jackson for writing such a classic gamebook and creating the Fighting Fantasy series that we are all still finding enjoyment in.
Thanks also to Graham Bottley, Alexander Ballingall and Alessandro Viola.
Finally, sincere thanks to my fiancee Jess for supporting me and my crazy geek projects.
References
Edit
↑ Template:WOFMRPG - Back Cover
Ad blocker interference detected!
Wikia is a free-to-use site that makes money from advertising. We have a modified experience for viewers using ad blockers

Wikia is not accessible if you've made further modifications. Remove the custom ad blocker rule(s) and the page will load as expected.