Gallicus is a long-time reader and fan of the Fighting Fantasy gamebooks since his discovery of them at a younger age.
How to Fight the Monsters of Gallicus' Past
Edit
His interest in the series began in January 1987 with the purchase of the then brand new Dragon Cover Format "Golden Dragon" Sub-Format edition of City of Thieves. Said gamebook was played so often that it fell apart and had to be replaced within a year (by an Adventure Gamebooks banner edition of the title strangely enough).
Further purchases in that span of a year (January 1987 to January 1988) included The Warlock of Firetop Mountain ("Golden Dragon" Sub-Format), Scorpion Swamp ("Golden Dragon" Sub-Format), Star Strider, Chasms of Malice, Battleblade Warrior, and Sky Lord. After that he was purchasing the books on a regular basis till after Night Dragon they no longer seemed to appear on bookshop shelves. During this time he and a friend attempted to pen their own Fighting Fantasy adventure entitled Night of the Necromancer. While the 460 reference adventure was completed, no copy survives to this day.
More recently an attempt has been made to fill the gaps in his collection, finishing with Knights of Doom from the original 59 Puffin Books run of titles in September 2008.
As a teacher he is doing his best to introduce a new generation of young readers to the delights of the books (and it is working so far!). He is currently also working on his own Fighting Fantasy adventure entitled Fetch and set in the Old World.
Adventure Sheet
Edit
Although the #31 to #39 run of books is run down by many for being uniformly boring, this is the period when he really started buying and reading the books and thus he has fond memories of them. Those books that he has returned to time and again are: City of Thieves, Creature of Havoc, Daggers of Darkness and Vault of the Vampire. After obtaining Creature of Havoc in the December of 1988 it became his favourite gamebook of the range, an opinion that hasn't changed since then!
Fighting Fantazine Fan MagazineEdit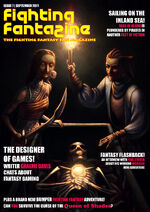 Main article: Fighting Fantazine (magazine)
Embroiled in editing a fan magazine dedicated to Fighting Fantasy and the world of Titan with the help and support of the team at Titan Rebuilding. Join us there for the mayhem!
Titannica Activity
Edit
You can view his contributions here
After discovering Titannica in December 2007 he has focussed on the factual side of things, concentrating on the gamebook pages for the regular books, plus Clash of the Princes, Fighting Fantasy - The Introductory Role-playing Game, The Riddling Reaver, the four Sorcery! gamebooks and The Sorcery Spell Book, Maelstrom, Cretan Chronicles, the Starlight Adventures and the factual pages associated with these.
Plus, he is on a hunt-and-destroy mission for "redirect pages" that have no obvious use (ie. ones that are simply shortened or mis-spellings of common pages such as the " Kharé", "KHARE", "Cityport of Traps", "Cityport of traps", " Kharé, Cityport of Traps", " Kharé - Cityport of Traps" mess of link choices!).
In November 2008 he began an undertaking to visit every page and correct/standardise them, reaching the halfway mark in February 2009. As of mid-July there is now under a third to go while the gamebook page tidy-up has reached number 50. By December 2009 only the letters "A" and "B" require correction and only gamebooks 57, 58 and Sorcery! remain to be completed. Plough through completed in June 2010! Time to do it all over again...
Fighting Fantasy CollectionEdit
Books/Magazines
Other
Or "Coloured Triangle" on the Sorcery! books.
Both the Emmanuel and Ian Miller cover versions.
Both the original printing with the picture to accompany paragraph 264 and a version without
Obviously an error. Barcode indicator suggests it is actually the 9th Impression (90901).
There was no "Special Edition" for this book.
Both original version without the colour map and a printing with it.
Original Boxset.
First Puffin Impression.