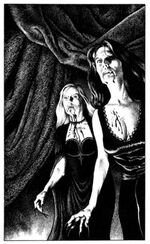 A Vampyre is an enslaved female minion of a more powerful Vampire.[3]
These unholy "femmes fatales" are very beautiful in appearance, which helps them get near their victims with their long nails and sharp fangs![4]
Care must be taken when fighting a Vampyre not to be bitten by her. If a Vampyre has an Attack Strength of 21, she has succeeded in biting her opponent in the neck, which not only causes the opponent to lose 1 stamina point every further Attack Round, but also inflicts Latent Vampirism on them. If this happens more than once during combat, the victim will die immediately, and then rise again as an undead servant of the master Vampire.[5]
References
Edit