For other uses of Vermithrax, see Vermithrax
Vermithrax is the trusted pet and companion of the wizard Gereth Yaztromo, named after his mentor Vermithrax Moonchaser. Gereth Yaztromo makes use of Vermithrax mostly as explorer or messenger. The bird is very clever and often engages Gereth Yaztromo or other bystanders in stinging verbal exchanges. [1] [2] [3]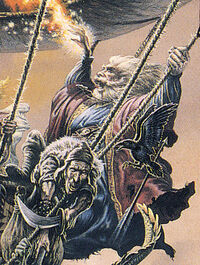 References
Edit
↑ Demonstealer - p.??
↑ Titan - The Fighting Fantasy World - p.64/139; Demonstealer - p.??; The Forest of Doom - ???; Temple of Terror - ???; Crypt of the Sorcerer - ???; Return to Firetop Mountain - ???; Shadowmaster - p.??