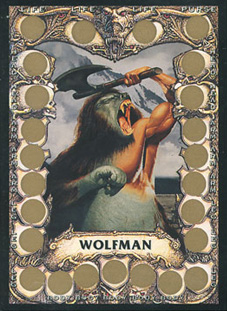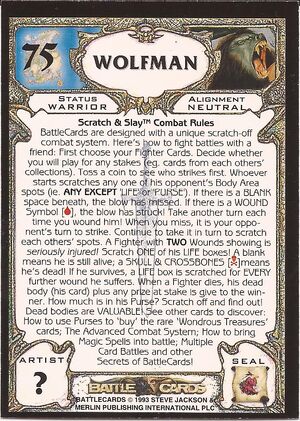 Wolfman was US BattleCard 75 and UK BattleCard 123.
Wolfman specified that the artist was Unknown. This was to facilitate a quest (Lord Magnoble's Quest), where the player had to find the five cards whose artist was identified by a question mark ("?"), rather than by name, and having found these cards, identify who the artist was. In the case of this card, it was Les Edwards.
Description
Edit
TO BE COMPLETED
Category Stats
Edit
BattleCard Type
Edit
This card is one of Barbarian Territories series. This card was also a Fighter Card.
Further Notes
Edit
TO BE COMPLETED
References
Edit