Books whose first edition was in the Wraparound Cover Format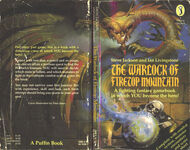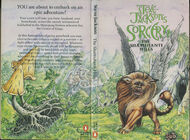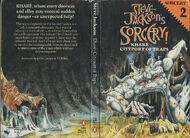 The Wraparound Cover Format is an informal term applied to the Puffin and Penguin Books book cover style for the early adventure gamebooks in both the Fighting Fantasy main series of books and in the Sorcery! epic. When the popularity of the initial books was to prove sequels commercially viable the book cover styles were revisited and the Coloured Number Format replaced the wraparound covers.
Fighting Fantasy Main SeriesEdit
For the main series of Fighting Fantasy gamebooks only the first book, The Warlock of Firetop Mountain sported this cover style. There was no number. From around the beginning of 1983, when The Citadel of Chaos and The Forest of Doom were being published, the cover format changed to the Coloured Number Format signifying the books' place within a series.
Sorcery! was initially published by Penguin Books. The first book, The Shamutanti Hills was published as part of a boxset which included The Sorcery Spell Book. The cover style of The Shamutanti Hills wrapped the illustration around the spine and back cover as well.
As with the main Fighting Fantasy series when the second book was to be printed it was considered indicative that a series was viable, hence a number would be added. For The Shamutanti Hills a number was added in subsequent reprints (in a coloured triangle in the top right hand corner of the front cover) but the wraparound effect of the illustration was maintained. This made it a hybrid of the "Wraparound Cover Format" and the "Coloured Number Format".
The first impressions of the second Sorcery! book (Kharé - Cityport of Traps) followed this hybrid format. Interestingly, an early advert for the Sorcery! epic within Warlock Issue 1 shows an image of a cover of Kharé - Cityport of Traps that was never released as it showed the cover of Khare - Cityport of Traps with no number on it at all.
Other Books
Edit
Fighting Fantasy Manuals
Edit
The two Fighting Fantasy Manuals, Out of the Pit and Titan - The Fighting Fantasy World, were both initially published as A4-sized books and both sported wraparound cover designs by Christos Achilleos. When they were republished in the smaller B-format size they retained most of the wraparound cover on the front and back covers, but the spine was black in both cases thus splitting the illustration.
Book Cover Formats
References
Edit
Ad blocker interference detected!
Wikia is a free-to-use site that makes money from advertising. We have a modified experience for viewers using ad blockers

Wikia is not accessible if you've made further modifications. Remove the custom ad blocker rule(s) and the page will load as expected.